Our society is changing rapidly. The low birth rate, increased longevity, increased crime, poor and overwhelming communication, the stressful pace of life and rapid economic change are having a major impact on the lives of our children. These changes in many ways have created a enviornmental crisis for our children in to-days society.

Since 1972 the JACPA Foundation has been working with children with the mission of creating a positive learning environment where all children can grow, learn and develop to their full potential without fear.

We at JACPA are constantly striving to provide children with the highest possible quality, child centered, learning experience. We do this through providing leading edge programming in the fields of sports, language, computer and sensitivity education. We will always be committed to helping children learn and grow into strong, healthy responsible citizens who will make our future society a better palace.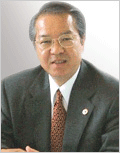 Katsuo Igarashi
CEO